Most Effective LMS Training Platforms in 2022
The goal of an LMS training platform is to provide training and development for learners so that the Learning and Development (L&D) departments can support an organization's growth and success. Let us look into the most effective LMS training platforms.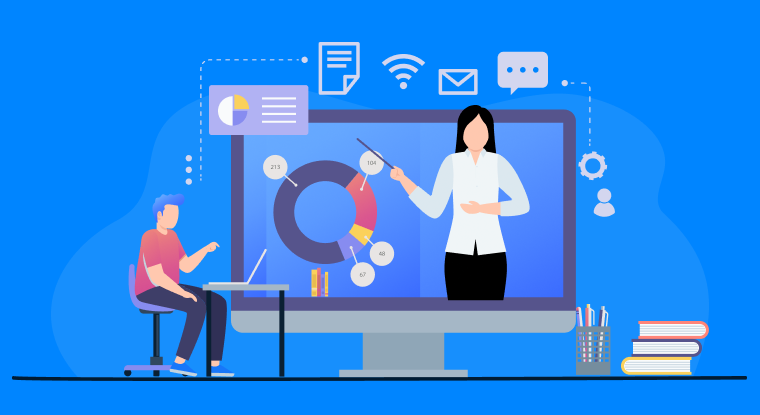 In order to maintain a well-oiled and cohesive workplace, businesses need to ensure that their employees are up-to-date on the latest company procedures, product changes, and industry news. In the past, this sort of employee training was typically done in person, with managers leading group sessions or one-on-one meetings. However, with the advent of technology, there are now more options available for businesses when it comes to employee training. One such option is using the best learning management system, the LMS training platform.
An lms is a software application that helps businesses manage, track, and deliver e-learning content and courses. It can be used to create and deliver online training courses, as well as to track an employee's progress and performance. There are many different LMS training platforms available on the market, each with its own set of features and benefits.
It is important to choose the right platform for your needs, as there is a wide range of options available on the market. Once you have selected an LMS training platform, you can start creating and delivering engaging and effective online training courses for your employees. Before that, you need to understand the purpose of the lms platform.
Purpose of LMS Training Platform
There are several reasons why your business might wish to use the LMS training platform for staff engagement and development. Take into account the aforementioned LMS training goals.
Streamlined learning
Employee training is greatly simplified with learning streamlined by the LMS training platform. It brings all of the educational materials to one place. Employees may rapidly access crucial materials from a single location. No more navigating across a network of sites to access various programs, emails, or corporate resources.
Employee engagement
Companies are suffering as a result of the modern learner's increased distractions. LMS training platform offers employees a blended learning environment for comprehensive, interesting learning. To support learning objectives, educational content is given in a number of formats, including written, audio, and video content.
Assessing and reporting
Employers and managers may easily monitor their employees' learning progress with the help of LMS training. They can check-in and determine how well people are doing and whether they are keeping up with the necessary chores. Employers and managers can utilize LMS systems to look for comprehension gaps and determine whether staff members need to review any concepts for a better understanding.
Cost reduction
Every company looks for ways to cut costs, right? A significant amount of money can be saved by investing in an LMS training platform. The online learning management system spares businesses the expense of employing a trainer to travel and instruct their staff on new topics. removing the overhead in the process (i.e., training costs, boarding, lodging, etc.). Simply set up the LMS training, then permit the staff to begin working.
Efficiency
Employee training and development can be done more effectively using the LMS training platform. Allowing people to learn at their own pace and assessing as necessary is more effective. There is now a right and wrong place and time for instructor-led training. A learning management system has the advantage of offering a tonne of automatic help and direction. This enables workers to learn independently and at their own speed.
Best LMS Training Platforms
LMSNinja
LMSNinja is a powerful and comprehensive LMS training platform that helps organizations train their employees more effectively. The platform offers a wide range of features and tools that make it easy to create and deliver training content, track employee progress, and measure the results of training programs.
LMSNinja is an ideal solution for businesses of all sizes that are looking to improve their employee training programs. The LMS training platform is easy to use and has a wide range of features that can be customized to meet the specific needs of any organization. With LMSNinja, businesses can create a more effective and efficient training program that will help to improve employee productivity and performance.
LMSNinja is a potent lms software that aids companies and organizations in more efficient course management and employee training. This LMS training platform provides a number of capabilities, such as reporting, assessment, and course management.
TalentLMS
The extremely capable assessment and survey systems are the winning points of TalentLMS. Assessments are essential for student engagement and knowledge retention. Ensuring that the "learnings" actually stick requires a robust system that provides different types of questions, exam formats, and thorough reporting.
You can create and control your own certifications (including validity periods). For areas that require extra attention, you can quickly create a certification that an employee can work on, clear, and exhibit through this LMS training platform.
Gamification is another technique to make learning enjoyable, improve retention, and promote engagement. You may improve your courses with badges, points, Levels, prizes, and leaderboards using the TalentLMS gamification feature.
Absorb LMS
Companies can give training to staff members at partner companies and within them thanks to Absorb LMS.
Zoom can be quickly integrated with Absorb LMS as well. All you have to do after creating a course in this LMS training platform is choose Zoom as the location. and Absorb LMS and Zoom will team together to create your virtual meeting place.
Absorb LMS is a good option if your company needs social learning, compliance training, staff development, sales training, mobile learning, and partner or client training.
Absorb LMS also offers a platform for selling courses, which enables you to design your own courses, share them, and get paid for them all from the Absorb platform. Over 70 payment gateways, many of which accept payments in different currencies, are integrated with the Absorb LMS.
Docebo
Docebo is a well-liked LMS training platform in the business world. It uses badges, rewards, and rankings as engagement tools to add a little gamification flair to the learning process.
The ability to create unique dashboards on an instructor-by-instructor basis, the use of widgets to help managers see the progress and skill gaps of their teams, as well as a tool that enables learners to share their experiences and learnings with other students, are some of Docebo's most well-liked features.
SAP Litmos LMS
In corporate training, it is required for both small groups and large enterprises to get trained at their respective scales. People who purchase your company's products may also need training, which is occasionally not something they can merely do online.
The ability to scale is what distinguishes Litmos. We're talking scaling to millions of learners here. It can be easily deployed, customized for jobs and abilities, offers anytime, everywhere access to individualized content, and connects with all of SAP's renowned business management technology. SAP Litmos LMS is one of the finest LMS training platforms if you're searching for the pinnacle of corporate learning.
To Wrap it Up
Once you have chosen an LMS training platform, it is important to create a learning plan. This will help you to focus on your goals and ensure that you are making the most of the platform. By choosing the right platform and creating a learning plan, you can ensure that you are making the most of the platform and help increase the productivity of the workforce in your organization.
We highly recommend LMSNinja by 500apps as this modern lms learning management system always provides the best in the market to organizations and with its sophisticated features, ensures that employees have no trouble finishing up their training. By signing up for LMSNinja, organizations can also gain access to 50+ other applications that are tailor-made to meet all business requirements.
Know Why LMSNinja is Best Learning Management System?
#1
Employ a dedicated LMS to train your new hires and existing employees
#2
Track performance and generate reports on course completion status, assessment, and more
#3
Build courses from scratch in video, audio and web content formats
#4
Connect with Forms.io to conduct comprehensive assesments
#5
Add and manage unlimited courses and projects from one place
#6
Accesssible Anytime & Anywhere
#7
Access the training courses from anywhere and anytime
#8
Get email notifications of employee training progress
#9
Unbelievable pricing - the lowest you will ever find
#10
Everything your business needs - 50 apps, 24/5 support and 99.95% uptime
Join the SaaS Revolution
All-in-One Suite of 50 apps

Unbelievable pricing - ₹999/user

24/5 Chat, Phone and Email Support