Picking the Right Business Online Learning Management System
To guarantee that current employees are learning useful job skills, staying informed about product changes, and maintaining current knowledge through new product and compliance training, the online learning management system can be used to assign essential courses to them.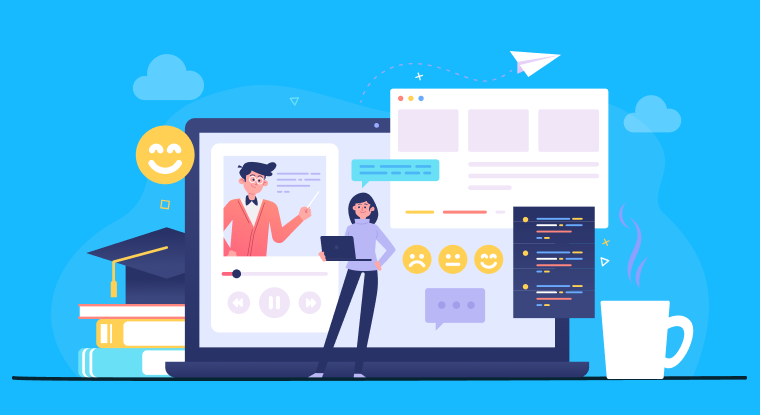 The online learning management system is a software program or cloud-based technology used to conceptualize, plan, carry out, and evaluate a particular learning process. LMSs are typically used in corporate training and education to distribute instructional materials and monitor learner progress. To give staff training or compliance training, they can also be employed in other sectors.
LMS comes in a wide range of varieties, each with a unique set of features and functionalities. However, the majority of lms training has some aspects in common, including the capacity to produce and deliver material, monitor learner progress, and offer reports and analytics.
It's crucial to take into account your unique demands and requirements while selecting an LMS. Consider capabilities like content production and delivery, learner tracking, reporting, and analytics, for instance, if you're looking for an LMS to use in a corporate training environment.
Importance of Online Learning Management System
The advantages of a learning management system are totally dependent upon the objectives of a firm. Even if the system can be customized to the business's requirements, every LMS should nonetheless include a few key components. Compatibility is one of the most popular qualities since it increases accessibility. The value of the online learning management system can be increased by making it accessible on any device, regardless of time constraints. In addition, making the login process simple will improve accessibility for system users. Data tracking is another essential component of this system. This feature makes it simpler for the business to monitor the user's progress based on the system's data storage.
The entire point of an online learning management system is to simplify the training process, which can be accomplished by selecting an automated system feature that minimizes manual labor. The lms systems implementation of motivational techniques will aid in boosting trainee morale. These resources aid in inspiring employees to work harder and with a good attitude. Every business chooses to keep its data secure, and security is one of an online learning management system's most crucial elements. The stored data is protected thanks to the online learning management system's security mechanisms. Every LMS used by any firm has these features, which are by far the most prevalent.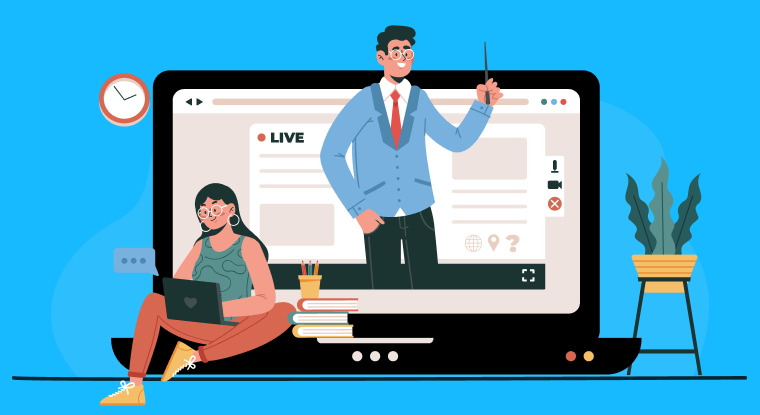 You can quickly create training courses for your employees, include exams in the curriculum, determine a pass rate for the exams, issue completion certificates if the employee clears the course assessment, and do a lot more with a fully automated lms platform. Additionally, you can include photographs, audio files, and pre-recorded videos of lectures or classes in your course.
An LMS's primary goal is to oversee the learning process (the name Learning Management System is pretty much self-explanatory). In essence, learning management systems were developed to simplify your life and the lives of your personnel. You don't have to be technical to start making amazing courses and examinations, though. You only need to have access to the Internet and a computer to be ready to go.
Let us look into some of the benefits of using an online learning management system to understand its importance even better.
Continuous access to content
You can submit eLearning course materials to the online learning management system for businesses and publish them so that anyone can access them whenever they want from any digital device. Instead of waiting until the next training session to practice activities and get answers to their questions, trainees can readily review the course material whenever they need to. Due to the fact that it eliminates the barrier of time zones, it is also a very important technology for global training. Global trainees can easily access data for learning at any time and from any location.
Better storage
Employees may more easily access all the information they require from a variety of devices thanks to the online learning management system. The data is all digitally kept in one place and is completely safe. This lessens the possibility of losing crucial data, such as user profiles and progress reports. Online collaborations are facilitated by the lms learning management system built on the cloud. Making important decisions more quickly and effectively is made possible by having easy access to data. When a need arises, it is crucial that the information is rapidly and easily accessible.
Progress and performance tracking
The performance and progress of employees can be easily monitored thanks to an online learning management system. This guarantees that training objectives are met. Supplements might be given to the trainees based on their progress reports in order to upgrade and enhance their performance. This approach can be used in conjunction with analytical techniques to pinpoint precisely where improvement is needed. It also aids in determining whether a particular course is not providing the necessary level of value. To make the lesson more effective, you can access it and change it.
Compliance regulations
An online learning management system is ideal for companies that need to regularly update their compliance standards. A Corporate lms software can quickly and easily add new compliance laws to the online course in place of taking the time to update a traditional course. It aids employers in staying current with regulatory changes and avoiding financial fines from the organization. Businesses have complete discretion over smoothly alerting employees of changes to corporate policy.
Cost-efficient learning
Since all the information is readily available online, additional expenses for printing materials, renting a site, and hiring a trainer for training sessions can be eliminated. Instead of traveling for training, the staff can train at a single place. A business can save time and money on training thanks to the online learning management system.
Easy upgrade
One can easily log in to their online learning management system and change data based on the new facts and trends instead of having to completely redesign their eLearning course to reflect new significant research in the field. It is simpler to update the content and inform the learners of the changes because all the data is saved in one place. Compared to delivering separate manuals on the updates to each learner, this procedure is significantly more effective. With the aid of notifications for their course content, the students may readily check for updates.
Now that we have covered the part where you understand the importance of an online learning management system, let us move to the crucial part.
Ideal Features of Online Learning Management System
To pick the best learning management system for your business, you should be aware of a few must-have features that would help you train your personnel effectively.
Course tracking
Learning specialists can better understand how employees and courses are performing when they have access to stored data that allows them to follow a learner's progress. The training management makes it easier for employers to plan and track their training initiatives. Additionally, a training management system helps with being able to spot areas where employees need to improve or those where they shine speeds up the training process.
Employers can offer a more personalized learning environment using an online learning management system by categorizing training content and labeling them by talent.
User experience
The best online learning management system you pick should offer information depending on a learner's history with the program and its function in order to promote greater adoption. For instance, if an employee works in sales, they need to have no trouble finding further sales-related training materials in the LMS. Users will be able to prioritize areas for growth thanks to adaptive exams and quizzes that take into account a student's success within the duration of a course. Users are more engaged in the process if online learning platforms are more tailored to their learning preferences and/or job function.
Offline tracking
Employers may find it difficult to manage and maintain learning data for professions that call for training and assessments in a practical environment, such as those that involve manual and technical tasks. An online learning management system should enable L&D professionals to record the outcomes of offline assessments in order to bring this offline learning back online. This is accomplished through the production of electronic records and the capability to update and tailor assessment checklists to the precise capabilities or skills that call for an evaluation.
Alerts and notifications
Without the required monitoring, managers and L&D specialists cannot accurately determine an employee's needs even when using a feature-rich learning management system. Automated alerts and notifications are a crucial online learning management feature that makes sure trainers and management are aware of how their employees have been engaging with and finishing course materials. An employee training management system can give feedback to the appropriate parties at the appropriate time by notifying trainers of a user's completion rates and auto-alerting learners about their training deadlines.
Centralized materials
Online learning management systems aren't simply for online education. It should be able to store a variety of learning resources in one convenient area, including written instruction, slide decks, videos, and more. Users and L&D professionals can maintain organization and uniformity with the help of centralized learning materials, two essential components of raising learner engagement. Blended learning, a helpful tool for L&D professionals working with a distributed team, is also made possible by having a space for various kinds of learning resources.
Analytics
An online learning management system should include configurable reporting and analytics that are in line with your eLearning objectives in order to accurately assess the efficacy of your learning programs. By identifying specific problems to solve, L&D professionals can improve training programs by using visual representations of learner data and customizable reports. Learning experts can modify their training programs by immediately spotting patterns. This is crucial for sectors where maintaining compliance is a high priority.
Mobility
The workforce is evolving quickly, and remote work is becoming more and more popular. Companies with a global presence may find it difficult or even impossible to do on-site training. To guarantee that employees always have access to the information they need and that businesses can develop their talent anywhere in the world, an online training management system must be remote or mobile-ready.
Additionally, training programs that are optimized for mobile devices are particularly successful for the retail, healthcare, and construction sectors because these companies frequently train employees while they are on the job. By doing this, it is made sure that, despite pressure, training is not sacrificed in high-impact businesses.
Assessments
Learning professionals can track their learners' engagement with the aid of online learning management system reports and analytics, but it's also crucial to evaluate their learners' retention and comprehension. To do this, an LMS needs to enable a variety of assessment techniques, such as branching scenarios, simulations, and exam engines. An LMS should enable trainers to give learners quick feedback in addition to offering these evaluations.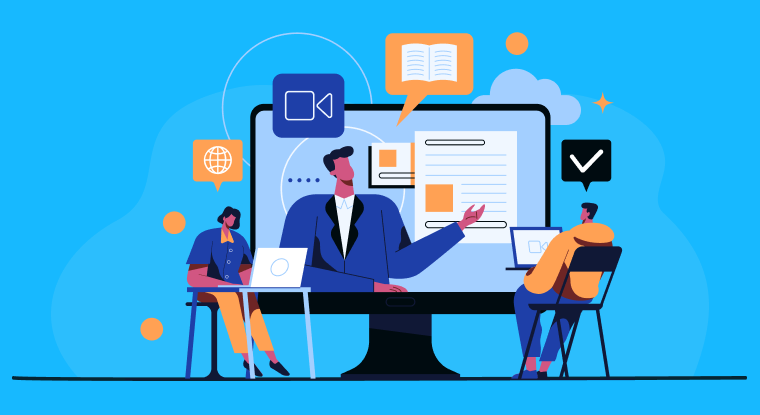 Best Online Learning Management System
So far you have got the gist of the online learning management system importance and its ideal features, check out our top recommendation of the best tool available.
LMSNinja is an online learning management system designed to help employers manage their content and assessments, and generate reports and notifications. The system is easy to use and provides a variety of features that can be customized to meet the needs of any organization.
LMSNinja e learning platform provides a central location for employers to store their course materials and share them with their employees and trainees. The system includes a variety of tools for managing content, such as the ability to create and edit documents, add multimedia, and track changes. LMSNinja also makes it easy to create and deliver assessments, providing a variety of question types and the ability to track personnel progress.
Reports and notifications are an important part of any learning management system, and LMSNinja provides a variety of options for both. Reports can be generated on employee training and development, course activity, and more, and alerts or notifications can be sent to all parties involved.
LMSNinja is a versatile and user-friendly online learning management system that can be used by employers to manage their content and assessments, and generate reports and notifications.
Conclusion
Through this article, we hope you got a pretty good idea about online learning management systems for businesses and consider checking out LMSNinja by 500apps. Not only does it make your employee training easier but also provides you with access to 50+ applications of its parent suite designed to meet the requirements of all businesses of irrespective sizes.
Know Why LMSNinja is Best Learning Management System?
#1
Employ a dedicated LMS to train your new hires and existing employees
#2
Track performance and generate reports on course completion status, assessment, and more
#3
Build courses from scratch in video, audio and web content formats
#4
Connect with Forms.io to conduct comprehensive assesments
#5
Add and manage unlimited courses and projects from one place
#6
Accesssible Anytime & Anywhere
#7
Access the training courses from anywhere and anytime
#8
Get email notifications of employee training progress
#9
Unbelievable pricing - the lowest you will ever find
#10
Everything your business needs - 50 apps, 24/5 support and 99.95% uptime
Join the SaaS Revolution
All-in-One Suite of 50 apps

Unbelievable pricing - ₹999/user

24/5 Chat, Phone and Email Support