Top 10 Enterprise Online Learning Platforms of 2022
The quality of learning and teaching is improved with online learning platforms. Adapt to both employee and employer needs. Boost efficacy and efficiency. Enhance time flexibility and user accessibility to involve learners in the learning process.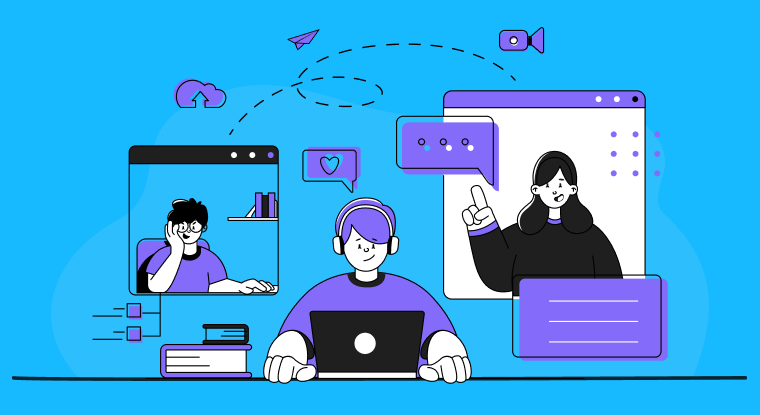 Enterprise online learning platforms are quickly becoming a staple in the modern workplace. By centralizing employee le arning and development within a single system, these platforms provide a number of benefits for both employers and employees.
For employers, enterprise online learning platforms offer a way to standardize employee training and development. By having all employees use the same platform, employers can ensure that everyone is receiving the same information and learning the same skills. This can be particularly helpful for employers with a geographically dispersed workforce, or for those who have employees who work remotely.
In addition, enterprise online learning platforms offer employers a way to track employee progress and identify areas where additional training may be needed. By monitoring employee activity within the system, employers can get a better sense of which employees are struggling and which ones are excelling. This information can then be used to tailor future training programs to better meet the needs of the workforce.
Finally, enterprise online learning platforms provide employers with a way to connect employees with experts within the organization. By leveraging the platform's built-in networking and collaboration features, employers can create a community of practice where employees can share ideas, ask questions, and get feedback from their peers.
For employees, enterprise online learning platforms offer a number of benefits as well. First, these platforms provide employees with a central location for all their learning and development needs. Rather than having to search for information across different websites or within different departments, employees can easily find what they need within the platform.
In addition, the best online learning platforms offer employees a way to track their own progress and set their own learning goals. By having access to their learning history and performance data, employees can identify areas where they need to improve and develop a plan for how to get there.
Finally, enterprise e learning platforms provide employees with a way to connect with others who are working on similar topics. By being able to search for and connect with other employees within the system, employees can get the support and feedback they need to be successful in their learning endeavors.
Importance of Online Learning Platforms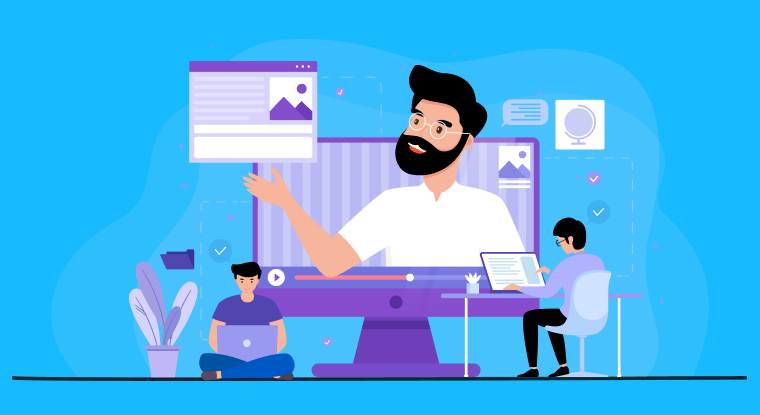 Whether you're an employer or an employee, enterprise online learning platforms offer a number of advantages. By centralizing employee learning and development within a single system, these platforms provide a way to standardize employee training, track employee progress, and connect employees with experts within the organization. If you're looking for a way to improve your employee learning and development program, an enterprise online learning platform may be the right solution for you.
Face-to-face training, instructor-led training, and blended learning are just a few benefits that an lms can provide above conventional classroom instruction.
Additionally, an online learning management system can help you save time and money because it makes it simple to administer lessons in a user-friendly online environment. You may handle course registrations, notifications, correspondence, certificates, and reports.
9 Best Enterprise Online Learning Platforms
LMSNinja
LMSNinja is a powerful learning management system (LMS) that helps businesses and organizations train their employees and manage their courses more effectively. This lms platform offers a variety of features including content management, reporting, assessment, and course management.
Content management is one of the most important features of any online learning platform. It allows businesses to easily create and manage their courses and training materials. With LMSNinja, businesses can upload their courses and training materials, as well as create and manage their courses from a central location. This makes it easy to keep track of all of your company's training materials and courses.
LMSNinja reporting gives businesses the ability to track their employees' progress and performance. With LMSNinja, businesses can see which employees are completing their courses and how well they are doing. This helps businesses identify areas where employees need more training or where they are struggling.
Assessment is another key feature of LMSNinja lms training. It allows businesses to test their employees' knowledge and skills. With this online learning platform, businesses can create and administer quizzes and exams. This helps businesses ensure that their employees are knowledgeable about the material they are being taught.
Course management of LMSNinja allows businesses to manage their courses more effectively. With this online learning platform, businesses can track their courses, enrollments, and completion rates. This helps businesses see which courses are popular and which ones need to be improved.
iSpring Learn
iSpring Learn is a cloud-based online learning platform with a tonne of features and great usability. It will enable you to quickly and effectively build and deliver training programs for your personnel.
The system meets a wide range of training requirements. The capacity to create comprehensive, intricate, step-by-step programs that will help provide ongoing lms training for employees is one of the key areas of concentration, along with new-hire onboarding.
Overall, it is one of the finest online learning platforms for businesses. In addition to everything mentioned above, iSpring offers a fantastic reporting engine, a flawless user experience, and a mobile app for iOS and Android users.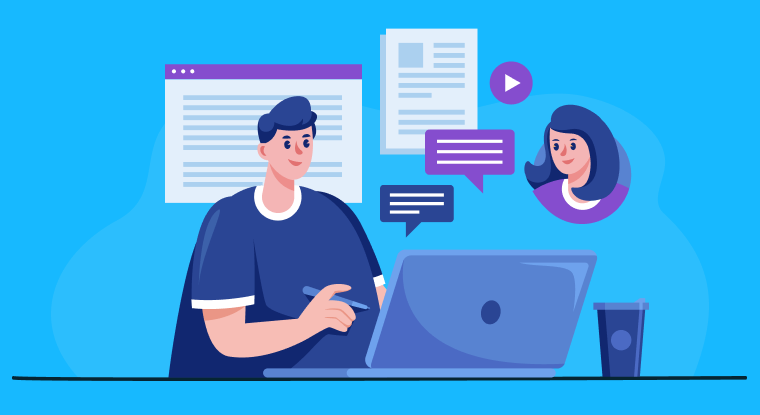 TalentLMS
TalentLMS offers a simple business learning solution that is also affordable. The solution has eCommerce and Zapier integrations, and it provides you with everything you need to properly train personnel.
You will receive all the fundamental tools required to produce presentations, movies, packages, and pretty much any other type of material possible from this online learning environment. When it comes to social learning, TalentLMS is an excellent online learning platform since it makes it simple for both your learners and trainers to keep in touch.
Trakstar
Trakstar is yet another top online learning platform for businesses. The platform lets you personalize all of your course material, giving you complete control over everything.
This online learning platform is packed with features and offers the opportunity to quickly track the success of all trainees. It includes the option to create PowerPoint presentations, videos, and documents.
Scalability is one of Trakstar's more innovative features since it allows for it when you need it. You can progress all the way to the pro level and scale out if necessary with three tiers of use. The system offers a free trial and has excellent social integration features.
Docebo
You should surely look into Docebo as an online learning platform for your company if you have a requirement for both formal and casual learning. You may quickly upload a wide range of content formats using the platform.
It also provides a basic built-in content editor. This makes it possible to create HTML pages using both text and media. The Docebo system is equipped with a potent AI that examines all uploaded content and assigns keywords to it.
The ability to create anything you want is provided by Docebo, but unlike some other online learning platforms, it also gives you access to ready-made courses that have already been developed by qualified course creators.
CourseMill
CourseMill has earned a spot on our list. They give you the option to construct an infinite number of courses and, along with that, offer sophisticated tracking and reporting. You will get access to stunning visual charts that track every conceivable variable. Data visualization can be a powerful tool for online learning platforms to help learners understand and analyze complex information in a more intuitive and engaging way. By presenting data in visual formats such as charts, graphs, and infographics, online learning platforms can make it easier for learners to identify patterns, relationships, and trends within the data. This can be particularly useful in fields such as science, economics, or data analytics where large amounts of complex data are often involved. Data visualization can also be used to track and monitor learner progress and engagement, providing instructors with valuable insights into how learners are interacting with the course material.
With the help of this user-friendly online learning platform, you can quickly inform your staff members or other students about future classes, training, and other crucial information. The notifications are delivered through email and include direct links to the relevant courses and training.
eFront
eFront is a more recent employee training management system available. Because of its abundance of tools and features, scalability, customization, efficiency, and dependability, it is included on our list. It has a tonne of gamification aspects and is completely intuitive.
The eFront platform complies with all industry standards for content and gives you the flexibility to create any kind of courses and materials you want. This online learning platform has you covered for everything from company management training to workplace ethics.
Absorb LMS
Absorb LMS is a sophisticated, multifunctional, and completely adaptable online learning platform. Both an on-premises and a hosted version of the system are offered.
Absorb has a tonne of automation tools built-in and makes it incredibly simple to design and distribute training courses. Utilize this online learning platform to optimize all of your information in more than 20 different languages and simplify employee training.
SAP Litmos
SAP Litmos is a different cloud-based online learning platform that staff members and instructors can use from a desktop or mobile device. Due to its simple, user-friendly, and extremely powerful built-in dashboard, it has amassed a following of over 1 million users.
A free trial of the online learning platform is available for two weeks. By doing this, you can familiarise yourself with the setup and operating principles of the system before making a final choice. By connecting it to Salesforce, you will also be able to keep track of all sales activity.
To Wrap it Up
You really can't go wrong with any of the online learning platforms for business that are described above if your company is considering something along these lines.
Yes, the one you select will depend greatly on your personal preferences and unique company requirements. However, the list above is full of qualified prospects, so this should at the very least provide you with a starting point.
Test a few of them out and decide which one best suits your unique requirements. Before you know it, you'll be able to train your staff members more quickly, easily, and affordably.
LMSNinja is a powerful online learning management system that offers a variety of features that are essential for businesses and organizations. With LMSNinja by 500apps, businesses can easily create and manage their courses, as well as track their progress and performance. Moreover, it also provides access to 50+ applications of its parent suite, allowing you to build a robust business structure and run it like a winner.
Know Why LMSNinja is Best Learning Management System?
#1
Employ a dedicated LMS to train your new hires and existing employees
#2
Track performance and generate reports on course completion status, assessment, and more
#3
Build courses from scratch in video, audio and web content formats
#4
Connect with Forms.io to conduct comprehensive assesments
#5
Add and manage unlimited courses and projects from one place
#6
Accesssible Anytime & Anywhere
#7
Access the training courses from anywhere and anytime
#8
Get email notifications of employee training progress
#9
Unbelievable pricing - the lowest you will ever find
#10
Everything your business needs - 50 apps, 24/5 support and 99.95% uptime
Join the SaaS Revolution
All-in-One Suite of 50 apps

Unbelievable pricing - ₹999/user

24/5 Chat, Phone and Email Support